Who are we?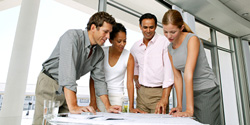 We are a team of smart, experienced financial advocates who have dedicated over 33 years to helping families, professionals and business decision-makers create success in their financial strategies. With corner offices in downtown Tempe's lakeside office plaza, the Battock team's multi-generational members work together to help ensure their clients are understood and taken care of.
A financial planner since 1979, Marty Battock has frequently been invited to give economic updates and speak on wealth management topics at a variety of events and organizations. He uses an investment philosophy based on the 1990 Nobel Prize-winning strategy by Harry Markowitz.1
Ever-professional Vicki Thomas knows how to be a true resource and get things done for the team's clients. They benefit from Vicki's extensive experience as a business owner as well as a financial advisor.
As marketing support specialist for the team, Audrey Denney makes sure everything runs as it should, so clients receive outstanding service and the team delivers on its commitments.
1The 1990 Nobel Prize-winning strategy by Harry Markowitzrefers to Modern Portfolio Theory ("MPT"), which is an investment technique which suggests that each investment should be considered for its effect on the overall portfolio. A wisely chosen portfolio will tend to maximize expected long-term return for some value of risk/volatility or, equivalently, minimize risk/volatility for some expected long-term return. MPT is a Nobel Prize winning approach to investing (Harry Markowitz won the 1990 Nobel Prize in Economics for it). No investment strategy including asset allocation or diversification, can guarantee a profit or protect against a loss. No forecasts can be guaranteed.