Why do we do what we do?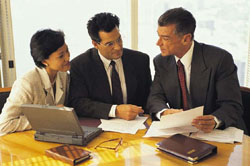 We work hard for and with our clients to help make sure the financial plans we develop together have a truly meaningful impact on their lives.
That drives us! We deeply value the clients who trust and work with us to create solutions: what we do best.
That trust is the most important part of our client relationships. You have to feel confident in the advisors you are working with to help you reach your goals. We have to earn that trust and be able to help deliver results, which only happens when a client works with us as a team. Without this trust, both clients and advisors are investing in a relationship that will not be successful.1
Because trust is so essential, we focus on the key elements that earn this trust. We hold each other accountable to adhere to our core values:
Transparency – Everything clear and up front.

Honesty – Straight-forward, timely explanations.

Delivering on our promises – See each strategy through to the end, leveraging one of the most stable, reputable financial organizations out there - MassMutual.

Communication – Listen when someone needs to talk. Keep clients informed. Listen and respond. Show clients are valued by seeking to truly understand them.




Advocacy – Promote our clients' values and goals. Maintain trust so clients can communicate and feel confident that their needs will be acted upon. Help take care of the people our clients care about.
1No investment strategy, including asset allocation or diversification, can guarantee a profit or protect against a loss. No forecasts can be guaranteed. The 1990 Nobel Prize-winning strategy by Harry Markowitzrefers to Modern Portfolio Theory ("MPT"), which is an investment technique which suggests that each investment should be considered for its effect on the overall portfolio. A wisely chosen portfolio will tend to maximize expected long-term return for some value of risk/volatility or, equivalently, minimize risk/volatility for some expected long-term return. MPT is a Nobel Prize winning approach to investing (Harry Markowitz won the 1990 Nobel Prize in Economics for it). Financial planning services are offered through qualified financial planners of MML Investor Services, LLC.